Why Choose Us?
We know you have many choices in Woburn and the surrounding towns and we don't take our patients for granted. We believe in providing exceptional care for you and your family and ensure that the service we provide is optimal in function, oral hygiene and aesthetics.
We use the highest quality materials and top dental labs in the country for all our dental procedures. And that makes a big difference in how your implant, crown, filling, denture etc. performs and how long it lasts
We use the latest techniques that save you chair time and provide better results
We continuously take continuing education classes to improve our clinical skills and staff workshops to provide our patients the best customer service
We don't double-book patients like many other practices do
We use BPA-free white fillings and sealants
We have flexible hours to accommodate your schedule which includes early morning, late evening and Saturday hours
Emergencies are promptly scheduled.
We always take the time to understand your goals and needs, and keep your comfort in mind during your entire treatment
Our staff is warm and friendly and will take great care of you at all times
You'll get pampered with warm neck wraps, pillows and your choice of music
For senior citizens age 60 and over, a discount of 5% every time
For members of the armed services and veterans, a discount of 5% every time
We offer flexible payment options via CareCredit
We accept all major dental insurance plans and will work with the insurance provider to file your claims and maximize your benefits.
Advanced technology used at Woburn Family Dental
3D Trios Scanner:
The Trios 3D digital scanner is an intraoral scanner developed by 3Shape. It is used to create digital impressions of patients' teeth and gums. The Trios scanner is a
handheld device that scans the inside of a patient's mouth. It uses optical technology to capture precise images of the teeth and gums, which are then used to create a 3D model.
The 3D Trios scanner has a number of benefits over traditional methods of taking impressions, such as:
Accuracy: The TRIOS scanner is very accurate, producing digital impressions that are more precise than traditional impressions. This can lead to better fitting restorations and improved treatment outcomes.

Comfort: The TRIOS scanner is more comfortable for patients than traditional impressions. It is also much faster, taking only a few minutes to scan a patient's entire mouth.

Reduced waste: The TRIOS scanner eliminates the need for messy impression materials, such as alginate and impression trays. This reduces waste and makes the dental office more environmentally friendly.
Digital X-Rays:
Digital X-Rays have numerous benefits for our patients. Most importantly, they result in less radiation exposure to you, are safer and provide instant results - which means less time in the chair! It's almost impossible to imagine the practice of dentistry without x-ray technology. Radiographs (x-ray pictures) allow dentists to diagnose and treat problems not yet visible to the naked eye, including early tooth decay, gum disease, abscesses and abnormal growths.
Digital x-ray technology uses a small electronic sensor placed in the mouth to capture an image, which can be called up instantly on a computer screen. When digital x-rays first became available about 20 years ago, they immediately offered a host of advantages over traditional x-ray films, which require chemical processing. Most importantly, they cut the amount of radiation exposure to the patient by as much as 90%.
Advantages of Digital X-Rays Besides minimizing radiation exposure, digital x-rays offer numerous advantages to dentists and patients alike. These include:
No chemical processing & no waiting. Because there is no film to process with digital x-rays, there is no waiting for pictures to develop — and no toxic chemicals to dispose of. Your dentist can immediately show you the pictures on a computer screen for easy viewing.
A clearer picture. It's possible to get more information from digital x-rays because they are sharper and can be enhanced in a number of ways. The contrast can be increased or decreased, and areas of concern can be magnified. It's even possible to compare them on-screen to your previous x-rays, making even the minutest changes to your tooth structure easier to detect.
Easy sharing and storage. Digital x-rays provide a better visual aide for you, the patient, to understand your diagnosis and treatment options. They can be e-mailed to different locations; they are also far less likely to be misplaced.
---
Laser Dentistry: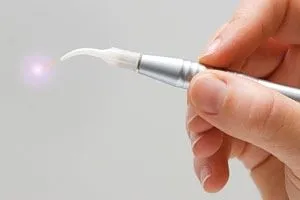 Soft-tissue diode lasers have revolutionized chairside treatment, allowing dental professionals to deliver procedures with greater accuracy and dramatically improved healing times. Lasers achieve consistently superior results and help provide the highest standard of care for patients . Dr Saroha and Dr Chang use the NV Microlaser. The first of its kind, it is one of the smallest,lightest cordless lasers on the market.
What are dentists currently using lasers for? These devices have been proven to help in the detection and treatment of oral diseases. They can be used for treating gum disease, detecting cancer, and pinpointing tooth decay in its early stages. They can precisely remove tissue, seal painful ulcerations like canker sores, and even treat small cavities. In the future, dental laser technology will undoubtedly find even more applications.
How Do Lasers Work?
Lasers take advantage of the quantum behavior of electrons, tiny particles inside atoms. By stimulating atoms with pulses of energy, and then using a method of optical amplification, they cause the atoms to produce a beam of coherent light. Essentially, that means that they emit light which has a great deal of energy, yet can be precisely controlled. It's the combination of high energy and precision that make lasers so useful.
Where Are Lasers Being Used?
Lasers have many advantages. They are minimally invasive tools that generally involve taking away less tissue than conventional methods. Used in gum surgery, for example, lasers can treat gum disease by killing harmful bacteria deep in pockets below the gum line, and removing the diseased tissue without harming the healthy tissue. They can also remove the thin layer of cells that inhibits reattachment of the gum and bone tissues to the tooth, while sealing off the adjacent blood vessels. This type of procedure generally results in less bleeding and pain. Lasers are also effective in treating ulcers and sores on the lips or gums.
---
Intraoral Camera: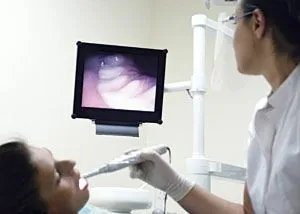 An intraoral camera is a small digital camera that is used to take high resolution images of your teeth and gums to assist with better and faster diagnosis. The images can be shown on the TV screen and enlarged to also show and educate the patient. The intra-oral camera is a valuable tool dental professionals can use to help you understand your examination, diagnosis and treatment. This small, handheld video camera is about the same size as a dental mirror (or an oversized pen). It is used to take actual pictures of your teeth with up to 25 times magnification and project them onto a screen for your review. It can also be used to give you a video tour of your entire mouth so that you can see things such as plaque deposits, decay, worn teeth, and broken or missing fillings. Lastly, pertinent images can be printed for your patient file for future reference — or even for you to take home.
Advantages of an Intra-Oral Camera
An intra-oral camera makes you more of an active partner in your dental treatment, enabling you to see what a dentist sees — an especially important benefit when additional treatments need to be discussed, or when treatment options must be explained — so that you can make informed decisions.
You may be more comfortable asking questions and better able to understand a treatment option or oral hygiene concern when you can actually see it.
Because it gives you the real-world picture of your dental hygiene, the intra-oral camera is ideally suited to show you techniques for improving your oral health and hygiene habits.
With its powerful magnification (much superior to the naked eye), it reveals the early stages of maladies such as gum disease and cavities.
The images can be captured and reexamined later, to show you changes in your oral health and hygiene or how a multi-phase treatment is progressing.
Furthermore, it can provide insurance companies with the proof they require to approve a needed treatment.
---
VITA EasyShade Advance: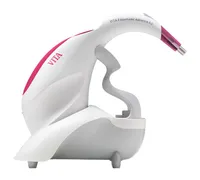 The VITA EasyShade Advance 4.0 delivers the fastest, easiest way to measure tooth shades under anylighting condition, so that we can conquer the trickiest shade challenges instantly and accurately. Measuring tooth/ crown shades are easy, accurate and precise with a push of a button giving the patients natural looking results.
---
Invisalign®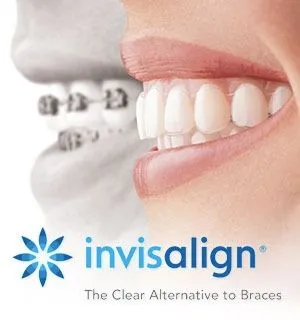 When you hear the word "orthodontics," what comes to mind? Probably a young teenager whose teeth are covered by a latticework of metal. There are indeed many orthodontic patients who fit that description. However, there now exists an increasingly popular alternative to traditional metal braces: Invisalign® clear aligners. As the name implies, Invisalign clear aligners are made of almost invisible polyurethane plastic. Rather than being cemented or bonded to the teeth as metal or clear braces are, clear aligners are completely removable — for important social occasions, for eating, and, most importantly, for tooth-brushing and flossing. This advantage can also be a disadvantage: It means you must resist the temptation to take your aligners out more than is advised.
Here are some other advantages of the Invisalign system:
Improved Oral Hygiene — With an orthodontic appliance that is removable, you will be able to clean your teeth much more easily than if you were wearing metal braces.
A Discreet Look — If you consider your orthodontic treatment to be a private matter, or simply feel that metal braces don't fit with your self-image, a practically invisible form of orthodontic treatment might suit you.
More Dietary Choices — To protect metal wires and braces, some diet modifications are necessary. With clear aligners, you can still bite into an apple or a crispy pizza crust.
Comfort — The thin, flexible material of which Invisalign is made will not irritate the soft tissues of the mouth, as metal wires and braces can.
Teeth-Grinding Protection — If you have a teeth-grinding or clenching habit, clear aligners can function as thin nightguards that will protect your teeth from excessive wear.